In late March, NASA's Political Action & Member Education Committee (PAC) surveyed NASA members about their top priorities heading into the provincial election. The top five issues identified, in order of importance, were:
Cost of living
Restoring funding to post-secondary education
Protecting pensions
Expanding health care
Environment
Based on these five priorities, members of PAC conducted a review of the platforms, policy positions, or statements of the United Conservative Party (UCP) and the New Democratic Party (NDP) in order to develop this election priorities report card.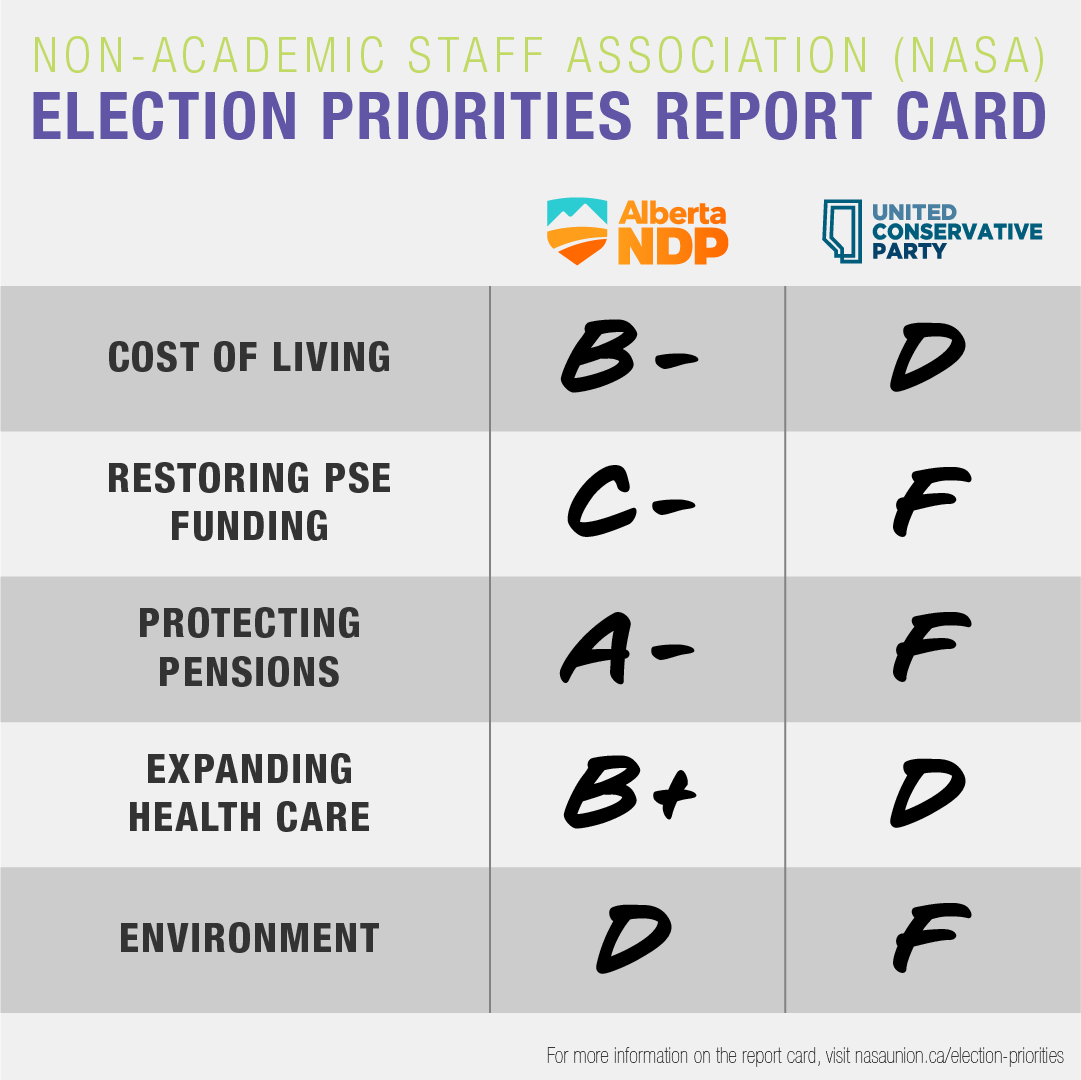 ​
The committee chose to compare only the two parties leading in the polls for the following reasons:
Although here are 14 registered political parties in Alberta, only the UCP and NDP are running candidates in all 25 constituencies in the greater Edmonton area or Camrose, where the vast majority of NASA members reside.
Most of the other 12 registered parties are running candidates in only a handful of ridings in the province, almost exclusively in rural Alberta. Some parties have no candidates listed on their official website.
The Green Party of Alberta, with candidates running in 18 ridings in the greater Edmonton area or Camrose, is the only party with candidates in more than a quarter of these ridings.
Besides the two leading parties, only the Alberta Party and Green Party of Alberta (both at 1% with a +/- 1% margin of error) even register in the popular vote projections based on aggregated polling.
If you are interested in the positions of the other parties, you can access their official websites on the Elections Alberta website.
Explanation of grades
Cost of living
(NDP: B- | UCP: D)
In terms of cost of living, much of the focus is on levying tax credits to corporations and not raising personal income taxes. There are positive commitments, such as increasing the seniors benefit, income supports and Assured Income for the Severely Handicapped (AISH) payments, and building more affordable housing. However, while we know building more affordable housing is good, what would have been appreciated is more detail on assuring tenants rights and tackling the overall crisis of financialization of housing. When it comes to jobs, the NDP states it wants to contribute $20 billion in private-sector capital investment and create "47,000 good-paying jobs" via tax credits. While these plans may seem promising, there is little detail on the nature of these jobs, what constitutes them as good paying or to what extent they are permanent and union jobs. In the case of the UCP, when it comes to the cost of living, aside from reducing taxes (including for large corporations and the wealthy), there is really nothing here to reduce the cost of living. Considering tax cuts will not offset inflation, it can arguably increase the cost of living. While there is some mention of providing support for affordable housing, the policies lack significant detail and are very vague.
Restoring funding to post-secondary education
(NDP: C- | UCP: F)
In terms of post-secondary education, the policy exhibited no commitment to restoring post secondary funding in a meaningful way. The only firm policy was on capping tuition fees at 2022-23 levels. While the UCP will cap domestic tuition increases beginning in the 2024-25 school year, along with reduced interest rates on student loans, and doubling the interest-free grace period for student loans, none of these policies will alleviate the cost of living crisis many students will be facing. With no commitment to restoring this funding and subsequently no support being offered to alleviate the burden of such austerity on students, staff and faculty, the ability of the university to function is more and more jeopardized and cost will continue to fall on students and working people. Overall neither parties have made genuine commitments to restore post-secondary education funding.
Protecting pensions
(NDP: A- | UCP: F)
In the case of the NDP, the policy surrounding protecting pensions is quite comprehensive and well articulated, and is perhaps the only commitment that can be regarded as worthwhile. The UCP platform provided no information about pension policy, but Danielle Smith has previously mused about pulling out of the Canada Pension Plan (CPP) and replacing it with a provincial plan, resulting in the F grade in the report card.
Expanding health care
(NDP: B+ | UCP: D)
When it comes to the issues of health care expansion, there are positive commitments being made by the NDP, especially in terms of building hospitals and clinics, reintroducing harm reduction strategies, hiring more health workers. There is no commitment to expanding health care, along with policies and language oriented towards private-public partnership, a policy we are very critical of. While there are some desired commitments towards increasing the number of doctors and HR improvements to health care, there is no comprehensive strategy. Much of the data when cross-referenced is misleading, such as the claim that the UCP will increase the number of physicians since 2019, while per capita the number of doctors per person in Alberta hasn't really changed. Things that aren't mentioned are the privatizations that have taken place in community labs, Emergency Medical Services, laundry & food services, ophthalmology, surgeries, seniors care, and home care, and the UCP has provided no commitments to reverse these policies.
Environment
(NDP: D | UCP: F)
When it comes to the environment, the policies of both parties are woefully inadequate. Aside from a commitment to protect the Rockies from coal mining on the part of the NDP, there is no commitment, acknowledgment or mention of climate change or a just transition. A similar case exists in case of the UCP; while there are superficial statements regarding conservation, there is no commitment to banning coal mining in the Rockies. It should also be noted that the co-called Red Tape Reduction Act increased forest harvesting and has resulted in a system where the government is paying oil companies to clean up old wells rather than applying the polluter pays principle. Both policies are fundamentally counterintuitive towards any effort to preserve the ecological integrity of our environment.
Our commitment at NASA is to the workers at our institution and standing in solidarity with workers across the province who have endured the harsh consequences of austerity and an increasing lack of affordability. We hope this report card provides a better understanding for our members regarding the policies of the two leading parties in this election. We know that no matter who wins we will keep fighting and make sure our elected officials are accountable to the needs of workers in our institution and across this province.
You can find information about how and where to vote on the Elections Alberta website. Election day is Monday, May 29, and polls at all voting locations will be open from 9:00 am – 8:00 pm. You can also vote at advance polls from Tuesday, May 23 through Saturday, May 27 between 9:00 am and 8:00 pm. Electors may choose to vote at any advance voting location.