NASA has negotiated a number of member discounts with retailers and service providers that members can take advantage of. To take advantage of these discounts you need to sign up as a NASA member.
Union Savings

NASA has signed on to a new discount program for NASA members. Union Savings is Canada's only not-for-profit, union-run, members' benefit program, and NASA members can now register online to qualify for discounts on a range of retail, entertainment, wellness, insurance, financial, travel, and other services.

To get started, you just need to register online by selecting NASA from the dropdown and entering your contact information. You can also register by calling 1-800-418-2990.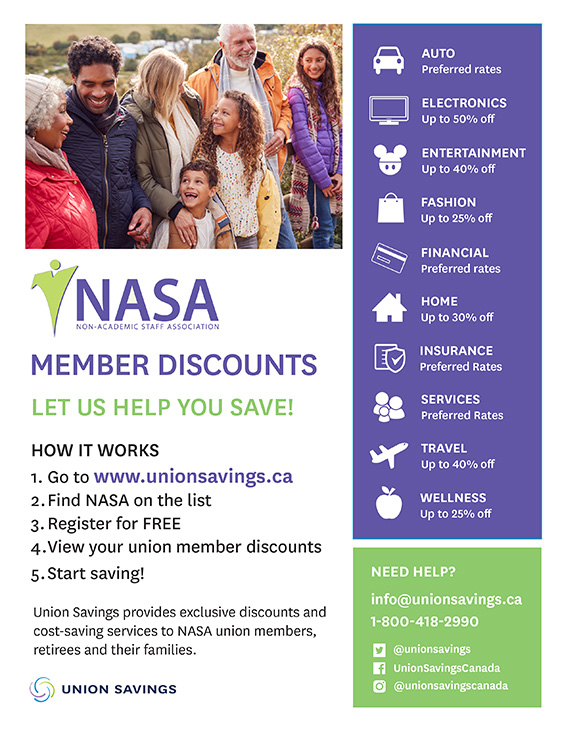 ​
---
NASA Group Home and Auto Insurance Program

NASA members, their spouse, and dependent children are eligible for preferred group rates on home and auto insurance quotes through Marsh's Private Client Services.
For your NASA preferred quote, please call 1-888-992-9161 to speak with a licensed insurance broker at Marsh's Private Client Services.
Policy not renewing at this time? Let Marsh call you. You can submit your expiry dates online for a future quote on home or auto insurance.
NASA members are also eligible for preferred rates on travel insurance and pet insurance. For more information you can view the Marsh information sheet.
​
---
CAPREIT Properties

CAPREIT is offering an exclusive discount of one-month of free rent at their three Edmonton locations to NASA members. Garneau Towers, Grandin Tower and Infiniti on 105 are either a short walk or commute to the University of Alberta.
For more information, visit the promotion page.
---
Factory Optical / Optiks International

Factory Optical Group of Companies is offering their Preferred Partner Program to NASA members and their immediate family members. The program gives all NASA members and dependents the option for any promotion, any time. Simply print the coupon to have the choice of any one of the following of the best six promotions at any of store locations across Western Canada:
40% off a single complete pair purchase
50% off lenses with or without a frame purchase (single pair offer)
50% off frames with the purchase of prescription lenses (single pair offer)
2 for 1 + 50% off lens coatings, lens treatments and lens upgrades
2 for 1 + one complete kids' pair free
2 for 1 + free Polarization
You will also be offered corporate pricing on prescription safety eyewear if you require them.
Find locations of Optiks International (AB and BC) and Factory Optical (SK) stores. Direct billing to Sunlife is available at all store locations.
---
IST Shop

NASA members can access free and discounted software, Apple products, mobile phone plans through TELUS, printing services, and many other discounts and deals through the IST Shop.
---
Faculty of Extension

Waived application fee
Apply to any Faculty of Extension continuing and professional education program and the application fee of $100 will be waived when you identify yourself as a NASA member. Get full details.
As a NASA member you can apply for annual funding toward learning opportunities and professional development through the Human Resource Development Fund (HRDF). If you are looking for HRDF-eligible part-time study to either enhance your current work or to prepare for an expanded or different role, this offer is a bonus $100 value toward your study over and above your approved HRDF funding. The $100 program application fee waiver also applies if you choose to pursue any Extension programs outside of HRDF.
Transit discount
Students at the Faculty of Extension are eligible to receive a 10% discount for an Edmonton Transit System (ETS) adult pass. To receive your 10% discount, visit Edmonton Service Centre in Edmonton Tower (10111 104 Avenue) with your UAlberta OneCard and your Faculty of Extension fee schedule (printed or digital).
---
City of Edmonton Recreation Centres

University of Alberta employees, including NASA members, are eligible for discounted admission passes to City of Edmonton Recreation Centres when they present their OneCard, including:
20% discount off of annual passes
20% discount off of the Continuous Monthly Membership Program
15% discount off multi-admission passes (adult and family)
---
Kepler Academy

NASA members are eligible to receive $100 off registration at any of Kepler Academy Early Learning & Child Care in Edmonton, Sherwood Park, Spruce Grove or St. Albert. This offer is valid on registrations made between September 1, 2021 and September 1, 2022.
You can download the information sheet for more details.
---
Alternative Dispute Resolution Institute of Alberta (ADRIA)

NASA volunteers and members are eligible for a 10% discount on ADRIA courses using NASA's organizational membership. Interested members should contact the NASA office for more information.